Flash is the kite for intermediate flyers. Using our ever tough and strong material consisting of 100% polyester and high tension carbon fiber rod.

Ever wanted to have the aerial view of the world without paying for air tickets? Now you can
with the Flash!
Also, you can challenge yourself by flying without the rudder. Yes! You did not read it wrongly, this kite is possible to fly without the rudder.
---
Jewel is the perfect kite for beginners who are new to flying "stringless" kites. The flight characteristics are docile enough for newer pilots, while still agile enough to keep even a veteran kite pilot on their toes. Small enough to be flown in the park yet fast enough to raise the pulse, the Jewel is the perfect grab and fly model, good looking, easily transported, easy to assemble, robust and a hoot to fly, the Jewel is a great bargain!
---
Cutie is the first kite with attached wings after customer suggestions. You can fly Cutie with the wing to make it look bigger and grander. Even though it has a wide wind-span, Cutie is still able to perform amazing stunts and maneuver like the rest of our kites.
---
The Delight is designed to be more stable and lightweight. It is designed to be crash-resistant, making it a great kite for beginners. The Delight is able to perform amazing stunts like the rest of our kites.
---
Pro 3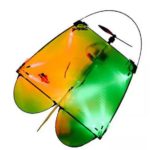 is a highly versatile flying all-rounder kite. It has a large surface area but is ultra light thus creating more lift, making it very easy to handle while at the same time able to perform all aerobatic stunts demanded by advance pilots.