About Go Fly Kite
Go Fly Kite.com Pte Ltd was established in 2006 to provide a unique Radio Control (RC) kite flying experience for all RC kite flyers. Taking to heart all our flyers' needs, comments, complaints and compliments, we strive for continuous improvement in our products and services. On top of that, we hope to bring the best possible shopping experience at our store to all flyers around the world.
When there's no string, there's no limit 
---
One Man's Inspiration
Michael Lim, founder of GoFlyKite.com Pte Ltd, barely passed his Primary School Leaving Examination (PSLE) and started off his career as a jeweler at the age of 20 with more than 20 years of experience in jewelry design.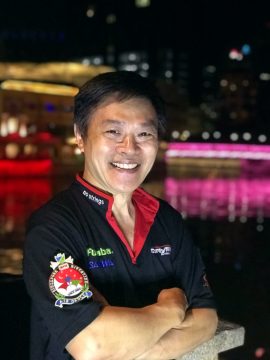 He enjoys flying remote control planes and helicopters during leisure time. However, flying remote control planes and helicopters were never easy and involves high maintenance costs. After some time, he realized that his interest lies in flying remote control planes more than anything else. He then decided to switch his business, combining his hobby with his profession.
The Company was then established in 2006. At the beginning, Research & Development (R&D) was the biggest challenge as he did not have any reference from any existing aero modeling designs but after many tests, the first kite was successfully launched in 2003.
Inspired by stars in the night sky, he decided to add LED lights to the kites to enable it to be flown at night. Today's GFK RC Kites are all designed with colorful LED lights. 
With this innovation, everyone's dream of flying has come true. Michael wrote a little piece of Aviation History in Singapore. After 1000 years of kite flying, he revolutionised the concept of kite flying. Without strings, RC Kites are able to do loops, rolls, stall turns, hover, acrobatic stunts and play games such as kite soccer, dog fighting, speed racing and drop zone.
FLYING A KITE IS AN EXPERIENCE LIKE NEVER BEFORE !
---
Our Innovation
What we have created is one of a kind and every of our RC kites are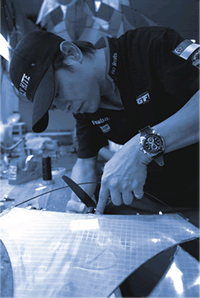 built to address the problems traditional RC flying models face.
All of our RC kites are designed to be:
Light and portable
Can be flown in day and night
Scale greater heights EVEN in strong wind conditions
Crash-resistant
Operates on rechargeable batteries
Flies quietly and for a longer period of time
The parts are easily replaceable and manageable at a low cost
Easily maneuverable and capable in flying at confined areas